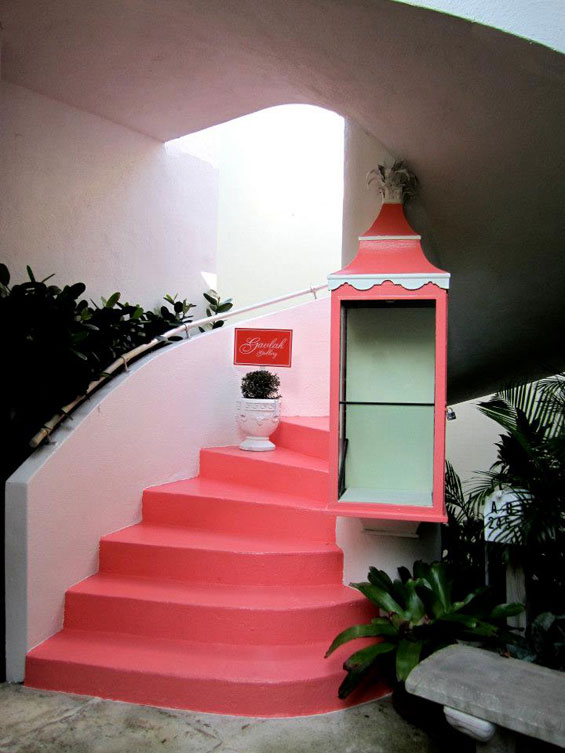 Sarah Gavlak, founder of Gavlak Gallery is an independent curator and writer who previously lived and worked for galleries and non-profit art spaces in Los Angeles and New York prior to opening her first art gallery in 2005 in West Palm Beach, Florida.  Only a little more than an hour north of the hustle and glitz of Miami, the tranquil resort town of Palm Beach is one of the wealthiest enclaves in America and the winter home of some of the best art collectors from across the United States. Noticing that there was not a single gallery presenting the best international contemporary artists to serve such art collectors, Sarah embarked on pioneering such a space by opening a solo exhibition of Wade Guyton paintings in November of 2005.  Over the next four years Gavlak presented solo exhibitions of Lisa Anne Auerbach, Jose Alvarez, Andisheh Avini, Sheila Hicks, Marilyn Minter, Alexis Marguerite Teplin, Christopher Milne, TJ Wilcox, Pae White, Phillip Estlund, and Elif Uras as well as themed group exhibitions organized around the idea of putting contemporary art within an art historic context.
After three successful seasons in West Palm Beach, art collector and real estate developer Jane Holzer invited Sarah to re-locate her gallery into one of Holzer's beautiful Palm Beach spaces on the famed shopping street, Worth Avenue. Situated on the second floor of Via Encantata among the fashionable boutiques, cafes and historic Addison Mizner Architecture the gallery continues its mission to bring the highest quality of contemporary art to both the most seasoned and new collectors of South Florida. The gallery has also participated in international art fairs such as: Art Basel Miami Beach (2005-2011), The Armory Show, The Independent and NADA New York in addition to placing gallery artists' works in Museums such as The Whitney Museum of American Art, The Hammer Museum Los Angeles, and The Tate Modern, London.
Gavlak Gallery
Gavlak Gallery does not accept artist submissions.
249B Worth Avenue,
Palm Beach, FL 33480
T:+1 561.833.0583
F:+1 561.214.4526
Directions
For an area map click
here.
info@gavlakgallery.com
Hours of Operation:
Monday - Saturday, 11am-6pm
Follow @GavlakGallery
---
Staff
Sarah Gavlak: Owner/Director
Sarah@gavlakgallery.com