Lisa Anne Auerbach: Whitney Biennial
March 7-May 25, 2014
March 7, 2014
The Whitney Museum of American Art announced nearly a year ago that a trio of outside curators would be organizing the 2014 Biennial, each taking a floor of the museum. Each brings a different set of eyes and interests to the show.
They are Stuart Comer, the chief curator of media and performance art at the Museum of Modern Art; Anthony Elms, an associate curator at the Institute of Contemporary Art in Philadelphia; and Michelle Grabner, a professor in the painting and drawing department at the School of the Art Institute of Chicago, as well as an artist with an exhibition this month at the Museum of Contemporary Art Cleveland.
Elisabeth Sussman and Jay Sanders — the Whitney curators who put together the highly praised 2012 edition — will act as advisers overseeing the giant survey, which runs from March 7 through May 25 and takes the pulse of what's happening in contemporary art today.
As the biennial — the last in its Marcel Breuer building at Madison Avenue and 75th Street — takes shape, details about its content are finally emerging. For starters, the show will include the work of just over 100 artists and collectives, more than twice the number of the 2012 Biennial. And as with the previous edition there is no overarching theme.
"Each curator chose a floor and divided up the artists very organically," said Mr. Sanders, adding that these decisions, as well as the content of the biennial itself, have been made by the three curators. "Having three perspectives means you will get a mix of performance and media," he said. "Visitors will also get an eye into the curatorial process."
View More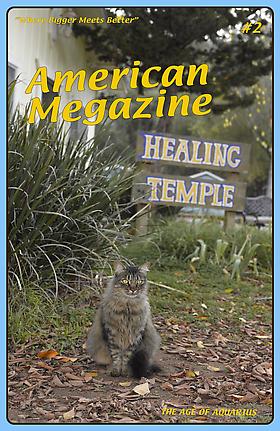 ---
Gavlak Gallery: The Armory Show,
March 6, 2014 - March 9, 2014
March 6, 2014
The Armory Show, a leading international contemporary and modern art fair and one of the most important annual art events in New York, takes place every March on Piers 92 & 94 in central Manhattan. The Armory Show is devoted to showcasing the most important artworks of the 20th and 21st centuries. In its fifteen years the fair has become an international institution, combining a selection of the world's leading galleries with an exceptional program of arts events and exhibitions throughout New York during the celebrated Armory Arts Week.
View More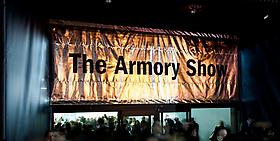 ---
Orly Genger: 'Undertone',
SCAD University January 24, 2014-March 21, 2014 Reception:
February 18, 2014
Orly Genger, "Lee," rope, paint and steel armature, 2010. Photo courtesy Gavlak Gallery, Palm Beach, Florida.
SCAD exhibitions presents "Undertone," an exhibition of recent work by Orly Genger. Genger is renowned for her ambitious environmental sculptures of intricate, hand-knotted rope coated in paint, most recently "Red, Yellow and Blue," which debuted in New York City's Madison Square Park in 2013. The foundation of Genger's process is rooted in the traditional female crafts of crochet and knitting. However, the scale and physicality of her process brings to mind such Modernist masters as Richard Serra and Robert Smithson.
Curated by Alexandra Sachs, "Undertone" includes two large-scale rope works that reference Donald Judd's "stacks" sculptures, along with a selection of recent drawings and cast wall sculptures.
Generous support for "Undertone" is provided by the Consul General of Israel to the Southeast.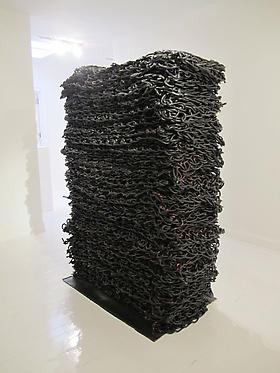 ---
David Haxton: MOMA
"Ileana Sonnabend: Ambassador of the New" Brings Fabled Rauschenberg to MoMA
December 11, 2013
During her lifetime Ileana Sonnabend cemented her place as an art-world force to be reckoned with; now her legacy lives on in a new MoMA exhibition, "Ambassador of the New." Dedicated to her collection, the show includes her family's donation of Robert Rauschenberg's famed Canyon, the iconic work now best-known for a certain stuffed bald eagle that made for messy tax issues. (It is illegal to sell the bird since it is under federal protection so the work is valued at zero, however, the IRS wanted to tax the estate approximately $29 million.)
Now safely held by MoMA, the work appears as the centerpiece among Sonnabend's enviable collection of work by Jasper Johns, Andy Warhol, Robert Morris, Mario Merz, Vito Acconci, Mel Bochner, John Baldessari, and Jeff Koons. A pioneering gallerist, she took a daring approach—like mounting Acconci's controversial Seedbed—and introduced or gave early shows to major artists such as Carroll Dunham and Ashley Bickerton in 1980s.
Sonnabend, who died in 2007, was the onetime wife of legendary dealer Leo Castelli, with whom she helped start his eponymous gallery.
View More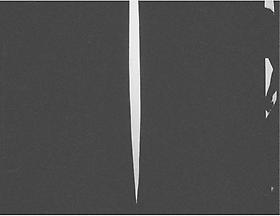 ---
ArtBasel Miami Beach 2013, Ocean Drive Magazine,
Gavlak Gallery Scores Coveted Spot at Basel
December 4, 2013
"If I think about it too much, I won't be able to sleep," laughs Sarah Gavlak, owner of Palm Beach's Gavlak Gallery. "It's wonderful and terrifying at the same time." "It" would be this month's annual Art Basel Miami Beach fair, drawing a who's who of contemporary art collectors and curators for a week's worth of see-and-be-seen parties, celebrity-studded dinners, and not least, pricey purchases. For a young dealer like Gavlak, one of only three Florida galleries to be selected for a booth among the fair's Convention Center aisles, it presents an incredible career-solidifying opportunity.
Which is where Gavlak's anxiety kicks in: Basking in Basel's prestige doesn't come cheap. By the time she has paid for her booth at the fair and added in shipping costs for the artwork to fill it, "we're talking $60,000." And that's before she's sold a single piece.
This year's fair also brings a special form of pressure. Though Gavlak was featured in Art Basel from her gallery's launch in 2005 through 2011, she was cut from last year's edition—without much explanation. Indeed, while many gallery owners now choose to call themselves "gallerists" instead of dealers, preferring the former term's more genteel and less crassly commercial connotations, the art world remains a highly competitive business. Outwardly, polite smiles hold sway. But behind closed doors, sharp elbows and cutthroat tactics emerge.
Still, the fair's selection committee has come full circle by not only readmitting Gavlak, but upgrading her previous designation from the Art Nova section—a corner of the Convention Center reserved for newer players on the scene—to the main area. "A lot of people will be watching me very closely," she offers. Yet she also sees this spotlight as vindication of why she moved to South Florida to open up shop.
"Maybe it's my democratic perspective, coming from the Midwest," she explains, referring to her Pittsburgh upbringing, "but there's interesting work and interesting ways of working everywhere."
While the overall vibe may be more Lily Pulitzer than Prada, Palm Beach is still home (or snowbird nest) to a significant number of deep-pocketed avant-garde art collectors. Moreover, Gavlak herself is hardly picking straw out of her teeth. Following a decade in Los Angeles, where she earned a graduate degree in art theory, she spent five years in New York, including a stint working at the powerhouse Gagosian Gallery.
However, focusing on homegrown talent isn't just talk on Gavlak's part. She has consistently shown local artists alongside heavyweight out-of-towners, even after moving her gallery space from the funky environs of West Palm Beach into the tony heart of Palm Beach's Worth Avenue. Her exhibition schedule continues to make room for the area's own sculptor Phillip Estlund and collagist John Loring as well as Manhattanite heavy hitters Marilyn Minter and Jack Pierson. Her Basel booth this year is no exception: Work from the Plantation-based painter Jose Alvarez will share space with sculptures from New Yorkers Simone Leigh and Orly Genger.
Gavlak is particularly proud of her part in resuscitating experimental filmmaker and photographer David Haxton's career. A rising star in downtown Manhattan during the late '70s and early '80s, tapped for three Whitney Biennials as well as for shows at the prestigious Sonnabend Gallery, Haxton seemed on track for art stardom. "But he was totally burned out on New York, he had to get out," Gavlak says. A faculty position at Orlando's University of Central Florida provided a mental respite and financial security—but Haxton may as well have dropped off the face of the earth, as far as the art world was concerned. Nearly three decades later, Gavlak says she became intrigued when two of her staffers were raving about the short films of their college professor. What she discovered floored her: "Why has no one looked at his work for 30 years?"
Thanks in no small part to Gavlak's championing him, Haxton is now in the midst of a proverbial second act, with a fresh batch of his films bought for the Whitney Museum of American Art's permanent collection and a slate of upcoming museum shows. "There's so many artists like that," Gavlak says. "For whatever reason, they dropped out, or the fashions changed: Painting is dead! Painting is back! Or galleries close and an artist is left behind. It doesn't mean they're not a great artist or are no longer relevant. It just means they don't have someone advocating for them. That's why it's so important to look in your own backyard—especially if your backyard isn't an art world center. Great artists are everywhere!"
by Brett Sokol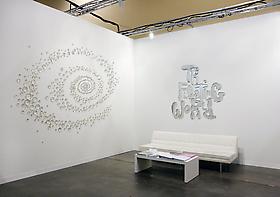 ---
ArtBasel Miami Beach 2013
December 4, 2013
Gavlak Gallery is pleased to exhibit at
Art Basel Miami Beach
Booth B29
Presenting works by :
Jose Alvarez
Andrew Brischler
Orly Genger
Bovey Lee
Simone Leigh
T.J. Wilcox
Rob Wynne
Works also available by:
Lisa Anne Auerbach, David Haxton, Marilyn Minter
Scott Reeder, Betty Tompkins, Bunny Yeager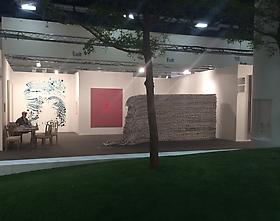 ---
Orly Genger: Red, Yellow and Blue
at the deCordova Sculpture Park and Museum, November 01, 2013 - September 01, 2014
November 1, 2013
This monumental installation features Orly Genger's renowned usage of 1.4 million feet of hand-knotted nautical rope covered in paint to create bright, undulating walls in three primary colors that will wind through the lawn, pathways, and hillside.
Red, Yellow and Blue features Genger's renowned usage of hand-knotted, paint-covered nautical rope, configured in bright, undulating walls in three primary colors that wind through deCordova's 30-acre lawn, pathways, and hillsides. The work is comprised of 1.4 million feet of rope collected from the Eastern seaboard and 3,500 gallons of paint, weighing in at over 100,000 pounds. Red, Yellow and Blue will be re-shaped and re-sculpted from its MSPC installation to adapt to the contours of deCordova's variable landscape. The miles of layered rope will redefine the topography of the Sculpture Park, bring aspects of the New England coastline to Lincoln, and create interactive environments that invite visitors to experience the landscape anew.
Genger's piece alludes to works of modernist icons, such as Barnett Newman's 1960s painting series Who's Afraid of Red, Yellow and Blue?, and Richard Serra's massive, site-specific sculptural installations. However, unlike that of her male predecessors, Genger's process involves the acknowledgement of collective labor. According to Genger, "I wanted to create a work that would impress in scale but still engage rather than intimidate. The tradition of knitting caries the sharing of stories and the installation draws on that idea."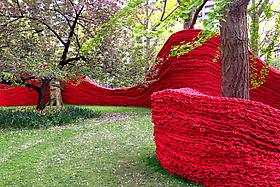 ---
T. J. WILCOX: IN THE AIR
Whitney Museum of American Art, SEPT 19, 2013–FEB 9, 2014
September 19, 2013
T. J. Wilcox (b. 1965), still from In the Air, 2013. Panoramic film installation: Super 8 film transferred to video and HD video, black-and-white and color, silent; 35 min., looped. Collection of the artist; courtesy Metro Pictures. Image courtesy the artist
View More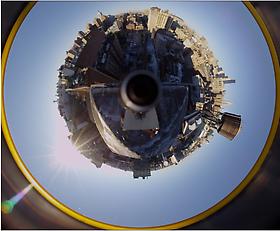 ---
Bovey Lee: Undercurrents
Nevada Museum of Art, September 8, 2012 - January 2, 2013
November 1, 2012
Bovey Lee's meticulously crafted paper-cut drawings explore the struggle between nature, urbanization, and the ownership of natural resources. Lee's drawings are rooted in her study of Chinese calligraphy and pencil drawing, mediums in which she was immersed while growing up in Hong Kong.
Lee begins by sketching out her ideas by hand. She then devises a digital template made up of photographs, downloaded images, scans from magazines and books, and vector graphics. After her template is in place, she hand cuts the image with a knife onto a single sheet of Chinese rice paper.
The often airy and fragile, lace-like structures she creates contrast sharply with the themes of power, sacrifice, and survival underlying her work.
"Cutting paper is a visceral reaction and natural response to my affection for immediacy, detail, and subtlety," Lee explains. "The physical demand from cutting is extreme and thrilling, slows me down and allows me to think clearly and decisively."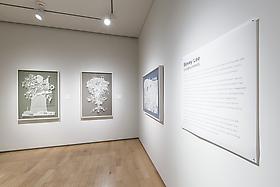 ---
Rob Wynne at the Norton Museum of Art
I Remember Ceramic Castles, Mermaids and Japanese Bridges, September 21, 2012 - October 6, 2013
October 1, 2012
New York-based artist Rob Wynne, who creates stunning and beautiful sculptures, reliefs, and installations inspired by diverse sources such as art, literature, and nature, will create the second site-specific project for the Norton's main lobby. He has manipulated glittering, mirrored glass to create symbolic shapes and texts that simultaneously appear reflective and seem invisible. With this material, he gives form to a snippet of someone else's conversation or an evocative idea such as "silence that wants to speak." For this project, Wynne will integrate the natural world–birds, sea, air, flora, and insects – distinct to the Norton's location through glass-beaded drawings and hand printed wallpaper, and incorporate examples of art from the Museum Collection.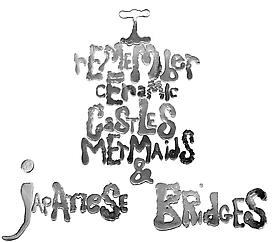 ---
Lisa Anne Auerbach in Funny. at the Flag Art Foundation
Curated by Heidi Zuckerman Jacobson, September 21 - December 15, 2012
October 1, 2012
There are multiple types of humor: dark, off color, smart, subtle, and downright hilarious. I am particularly interested in the pause that occurs between the delivery of a joke and the smile that indicates someone "gets it." Unlike contemporary art, where there is no single meaning to a particular work, with humor people usually either think something is funny or they don't. As with art, however, there are subtleties regarding the degree to which someone wants to participate in or play along with a jest. So it is not surprising that humor in art has a wide variety of manifestations. Richard Prince uses Borscht Belt–jokes that continue to deliver head-shaking laughs after all of these years, even in serious art contexts. Matt Johnson and Sarah Lucas manipulate or reassociate everyday objects to elicit a knowing smile.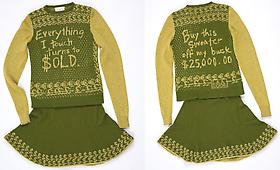 ---
Lisa Anne Auerbach and Marilyn Minter in GirlTalk: Women and Text at CAM Raleigh
September 22, 2012 - January 14, 2013
October 1, 2012
GirlTalk: Women and Text explores the construct of language, its persistent ambiguity and shifting character in the age of new media. Featured work represents a diverse range of artistic styles ranging from political textiles to large scale installations that employ portions of texts as building blocks. This exhibition takes its title from common nomenclature; "girl talk" is a term that emerged in the 1990s to describe a sense of belonging and conversations between women.
View More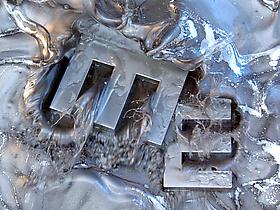 ---
David Haxton in Watch This! New Directions in the Art of the Moving Image at the Smithsonian American Art Museum
March 16, 2012 - On view indefinitely
October 1, 2012
Watch This! New Directions in the Art of the Moving Image takes stock of the cutting-edge tools and materials used by video artists during the past forty years. The current installation features key artworks from the history of video art as well as a new generation of artists on the cutting edge of new media art practices.
View More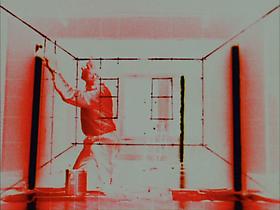 ---
Whitney Museum of American Art has acquired a group of five TIME drawings by Mungo Thomson
Special thank you to Carter Foster, Curator of Drawings.
September 30, 2012
---
Norton Museum of Art has acquired Closing Time by Andrew Brischler
Special thank you to Cheryl Brutvan, Chief Curator of Contemporary Art.
September 30, 2012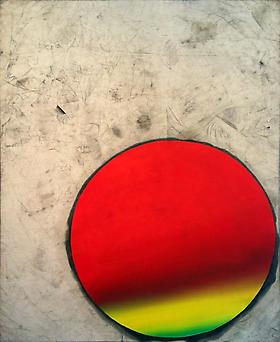 ---
Wade Guyton OS at the Whitney Museum of American Art
October 4, 2012 - January 13, 2013
September 29, 2012
Over the past decade, New York–based artist Wade Guyton (b. 1972) has pioneered a groundbreaking body of work that explores our changing relationships to images and artworks through the use of common digital technologies, such as the desktop computer, scanner, and inkjet printer. Guyton's purposeful misuse of these tools to make paintings and drawings results in beautiful accidents that relate to daily lives now punctuated by misprinted photos and blurred images on our phone and computer screens. Comprising more than eighty works dating from 1999 to the present, Guyton's first midcareer survey features a dramatic, non-chronological design in which staggered rows of parallel walls confront the viewer like the layered pages of a book or stacked windows on a monitor. The exhibition includes paintings, drawings, photography, and sculpture, and concludes with two spectacular new canvases, stretching up to fifty feet in length, which Guyton created specifically for the Whitney's Marcel Breuer–designed building. The title, Wade Guyton OS employs the common acronym for a computer's "operating system," linking Guyton's art to the technologies of our time.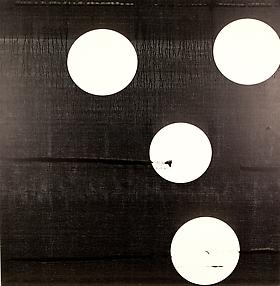 ---
Alexis M. Teplin named artist of the week for The Guardian
Artist of the week 195: Alexis M Teplin
June 21, 2012
Comedy and unchastity are key in this American artist's vivid patchwork paintings and sculptures, which call for social change even as they flag up failures of cultural revolutions past
View More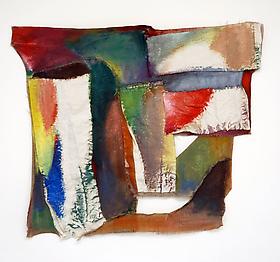 ---
Art|Basel|Miami Beach 2011
Lisa Anne Auerbach, Orly Genger, Alexis Marguerite Teplin
November 30, 2011
Gavlak Gallery is pleased to announce our sixth consecutive participation in Art Basel Miami Beach. The gallery will feature the intelligently provocative work of three women artists: Lisa Anne Auerbach, Orly Genger and Alexis Marguerite Teplin. These three artists based in Los Angeles, New York, and London respectively share overlapping formal and conceptual concerns with respect to materials, notions of female desire and perspective, sexuality and gender, and the history of art from the Rococo through Pop Art and Minimalism. Each of these artists plays with the cultural and political significance of the materials used, such as found photography, wool, rope and existing vintage fashion items. The artists use both "high and low", appropriated, banal, and common materials to produce an object, sprawling installation or painting that guides the viewer through their very specific perspectives on art and culture. They draw upon commonly recognized crafts, such as sewing, knitting and crocheting, which are frequently dismissed as "woman's work", and therefore not valuable, and re-contextualize it.
View More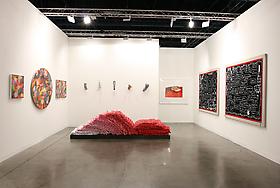 ---
Art|Basel|Miami Beach 2010
Marilyn Minter and Rob Wynne
November 30, 2010
For Art Nova 2010, Gavlak Gallery presented a two-person exhibition featuring work by Marilyn Minter and Rob Wynne. Both artists produced new, major works specifically for Art Basel Miami Beach. Marilyn Minter (b. 1948, Shreveport, Louisiana) and Rob Wynne (b. 1950, New York) are both currently living and working in New York. Minter and Wynne are two artists of the same generation dealing with ideas of beauty, decadence, fantasy and glamour, but with two very different approaches

View More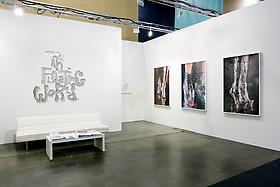 ---
Art|Basel|Miami Beach 2009
"Insane Terrain"
Phillip Estlund
November 30, 2009
"Insane Terrain"
For Art Nova 2009 Gavlak presents Phillip Estlund (b. 1974, Athens, Greece), a South Florida-based artist whose work deals with concepts that while at times are more urgent to the region, are also global concerns. Estlund is an observer of nature- both human and environmental- and an explorer of psychological space, physical terrain and raw, found materials. By taking the raw detritus that is left behind from natural disasters, such as hurricanes and tornadoes or manmade waste from old construction, he collects and reconfigures these materials as formal sculpture that reflects the "lower" architectural vernacular of South Florida.

View More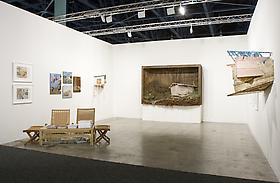 ---
Art|Basel|Miami Beach 2008
Jose Alvarez
November 30, 2008
Gavlak is pleased to present a solo exhibition of new work by Jose Alvarez (b. New York City, 1968) at Art Basel Miami Beach 2008. For this exciting exhibition in the Art Supernova section (Booth Q4), Alvarez will present a powerful combination of newly created mica paintings, collaged works-on-paper and video animations that continues his exploration of the complex intersection of mysticism, science, spirituality, and the construction of belief systems. Drawing on his long-standing dialogue with James Randi, the famous magician and renowned challenger of paranormal phenomena, and on his own recent visits to Houston's NASA Space Flight Center and to Australia's Parkes Observatory telescope, Alvarez explores how the unfolding of psychic hoaxes, the perceived supernatural energy of charmed objects, and the mysterious quests underlying space exploration all connect to the strong human desire for knowledge and transformation.

View More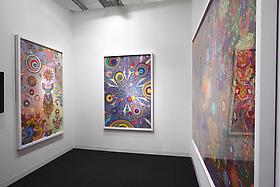 ---
Art|Basel|Miami Beach 2007
"Along the Dixie Highway"
Lisa Anne Auerbach
December 6, 2007
For Art Positions Gavlak, West Palm Beach presents a solo presentation of works by Los Angeles based artist Lisa Anne Auerbach.

Lisa Anne Auerbach works in a variety of media: photography, knitting, and small publications. Living in Los Angeles since completing her master's degree at Art Center College of Design in 1994, she has exhibited most recently at White Columns, New York (curated by Matthew Higgs), Margo Leavin Gallery, Los Angeles, Socrates Sculpture Park, Long Island City. Auerbach has also been involved with High Desert Test Sites since its inception in 2003 with artist Andrea Zittel and produced the daily publication for Zittel's costumed hiking club project at the Frieze Art Fair in 2005.

View More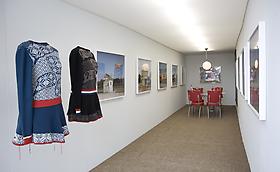 ---
Art|Basel|Miami Beach 2006
"The Meaning of Flowers"
Aleksandra Mir

December 7, 2006
The Meaning of Flowers is a new print project by Aleksandra Mir produced in Palermo, Sicily in the summer of 2006. Drawing upon the classic notion that flowers are imbued with meanings and a specific set of semantics with idealistic and hopeful connotations, Mir has edited and revised the botanical code in a more socially relevant fashion. The new meanings suggest insecurity, doubt, fatigue, betrayal and reconciliation, symptoms and elements that comprise the majority of romantic relationships. Combining both "high" and "low" fine art techniques, that of the elegant letterpress that recalls old world civility and the pressed fruit and vegetables harnessed from local markets which harkens back to kindergarten art activities, a completely new and idiosyncratic type of botanical print is created. Rather than those traditional Victorian botanicals that passively grace the halls and sitting rooms of respectable homes, these naively colorful works carry sophisticated implications and complicated overtones. The Meaning of flowers consist of 40 motifs on 19 x13 inches hand torn paper, printed in an edition of twelve with three Artist's Proofs. Each set fits into a handcrafted and gold embossed portfolio sealed with a pink satin ribbon.

For more information, please visit Aleksandra Mir's website.

View More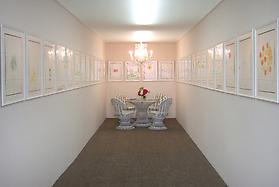 ---